In November 2018, we co-hosted an Insider event with FIPP in Argentina and Chile about the role and value of digital editions.  Given the Latin American venue, I decided to use a local coming-of-age tradition – a quinceañera –  the 15th birthday milestone when a girl transitions from a child into a young woman in the community.
This theme resonated with me because we've been building digital editions for publishers (and their readers) for over 15 years.   And we've learned a lot in that time.  So, to celebrate a quinceañera of our own, I presented 15 lessons we've learned over that period.
But before getting to those, I want to address the issues often raised when the subject of digital editions comes up in conversation.
I know that, sometimes, we, as an industry and readers ourselves, can be quick to dismiss digital editions.  Often, I'll hear that digital editions are dead and that readers who moved away from print don't want replicas.
There're many arguments to be made for and against digital editions, whether you're looking at a flat PDF or a rich media experience. Some brands have found tremendous success with them, while others have struggled.
In the last few years, however, the worldwide revenue generated by digital editions has continued to rise and quite dramatically.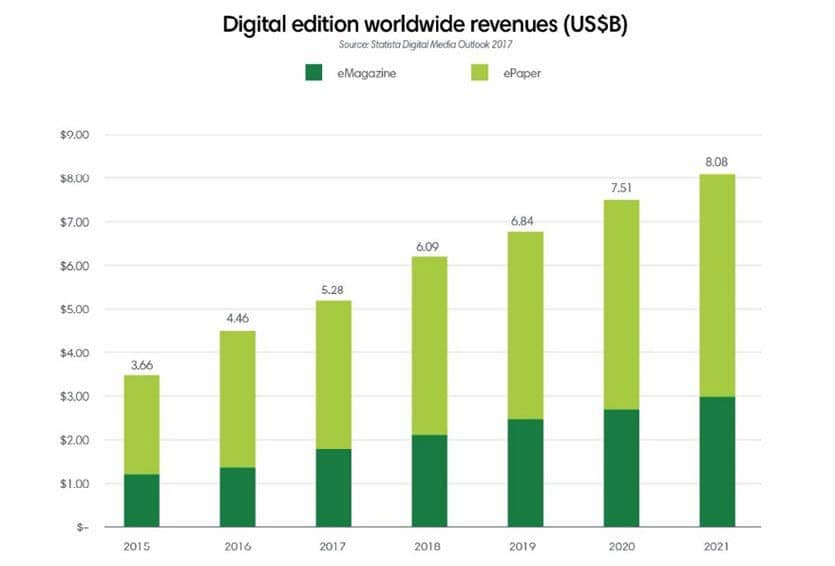 But instead of trying pull apart their merits or shortcomings, let's accept the fact that digital editions are here and that they're not going away anytime soon.  Why?
Because digital editions evoke emotional connections with the printed product – a product that is trusted and carries tangible value worthy of payment.  And the trust, perceived quality, value, and achievement that comes with reading printed media carries over to digital edition replicas, along with the willingness to pay for them.
But that doesn't mean digital editions can't change. It doesn't mean we can't learn and grow and apply new knowledge and new ways of thinking to our digital products.
Can they be a tool with which we can attract new audiences or learn more about existing ones? Can they help transition print subscribers into paid digital subscribers?  Can we promote them ahead of our print products without cannibalizing revenues?   Can they be bundled with print to increase revenues?
Yes, they can and more.  Here are 15 lessons from 15 years of helping publishers maximize reader engagement and revenues through their digital editions.
Lesson 1: You have to talk about it
I've lost count of the number of publishers who spent time and money building a digital edition – either with our service or with someone else's – and then hid it away in the bowels of their websites, afraid they might cannibalize their print product, their other digital products/apps, or their website.
The result: low readership and low revenues – justifications for downplaying their value.
But not all publishers took that silent road to irrelevancy.  Some like El Heraldo, a regional newspaper in Colombia that launched its Branded Edition at the end of 2015, realized that positive results can come from concerted efforts in promotion.
The publisher saw digital editions as a way to transition its current readers from print to digital, supporting the long-term goal of converting them into primarily digital readers.  In 2016, El Heraldo started promoting its Branded Edition in multiple ways including: promotional codes, referral programs, and digital ads with direct follow-through – all of which are easier, more trackable, and more seamless with a digital edition.
For example, El Heraldo gave every fan of its Facebook page a promotional code to access its Branded Edition for a short period of time. This one promotion added 5,000 readers to its digital audience – not insignificant for a regional paper.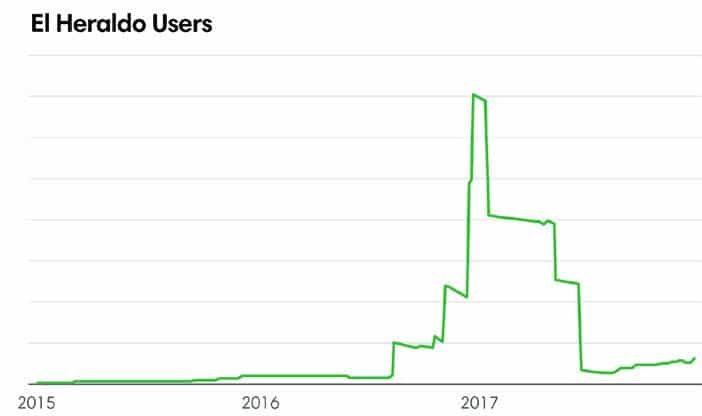 Now I know what you're wondering, "Why all the peaks and valleys in the chart? Is interest that erratic?"
These fluctuations reflect the results of El Heraldo's ongoing promotional campaigns, but as you can see they're not consistent. Like most products, you need to tell people about them in order to keep them engaged, especially in our digital world where attention is a precious commodity.   There's a reason that marketing is such as huge industry; it's what keeps products in front of consumers.  GroupM forecasts that the global advertising spend for 2018 will reach over US$557B; US$267B of which will be digital.
But digital edition marketing doesn't require a massive spend by publishers.  Promotions like El Heraldo's Facebook campaign cost the publisher next to nothing.  But its returns were significant.
So tear down the cone of silence around your digital editions.  Keep talking about them on social media, in your print edition, and on your website.  You'll be surprised how much attention you'll get.  And we all know that attention is the currency in the digital economy.
Lesson 2: You don't have to shout about it
When communicating with readers, it's important to select the right medium for the target audience.  La Nacion in Argentina, for example, doesn't shout out promotions through social media for everyone to see.  They instead, promote their digital edition primarily through email to current subscribers because email is the right communication vehicle for that audience. La Nacion offers their digital edition as part of a special package for VIP print subscribers only, alongside other perks like theater tickets and retail discounts.
The results – a consistently engaged paying readership!

Lesson 3: You can't fight human nature
We are creatures of habit and audience reading behaviors are hard habits to break.
The Star (Malaysia) offered its readers a complimentary one-year subscription to its digital edition that recently expired. Some readers converted into paying subscribers (the loyalists), but many didn't. You can see the drop off in usage over the last year.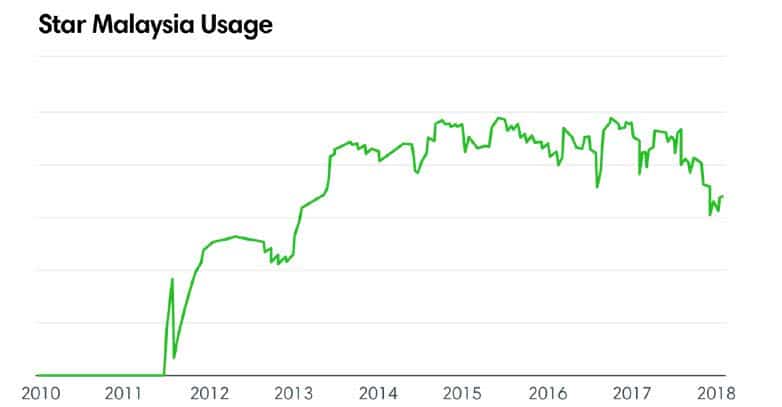 A full year of free service created an expectation that content is free, which created a habit of not paying for content. It's an uphill battle to undo those expectations and habits.  In the end, most loyalists will subscribe in order to continue to enjoy the content, but those who have an engrained low willingness to pay for digital news will drop off, despite the fact that they were engaged with the content while it was free.
Lesson 4: Build off of each other
This is a tough lesson to learn. We operate in highly a competitive space that hasn't changed all that much in the past century.  Most publishers want all eyeballs focused on their publications – hording content within their own walled gardens and shunning syndication and sharing.
But what happens when publishers work together? And how does that impact what they can do with their digital editions?
In 2011, Spain's top publishers came together and launched a single, multi-platform news destination (Kiosko y Más) that aggregated more than 500 full-content digital edition newspapers and magazines.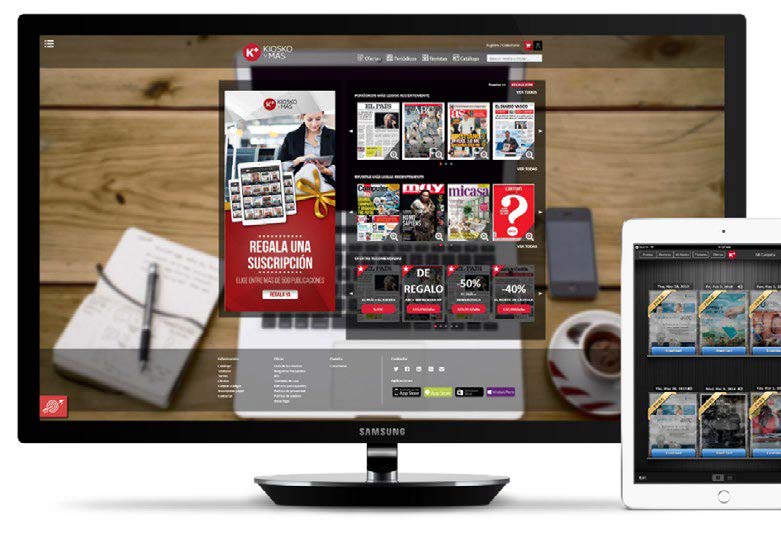 Kiosko y Más united media groups such as Vocento, Prisa, Godo, Zeta, Axel Springer, RBA and more – offering a one-stop-shop for full digital edition replicas of their titles to audiences online and on mobile devices.
It's been a win-win for readers and publishers.  Readers discover and enjoy access to a wealth of Spanish content through a single login, while publishers can leverage the audience of one brand to drive the sales of another, or upsell a user from one publication to another.  For example, El País readers might discover GQ, or La Vanguardia, or Men's Health and buy an issue to subscribe to one or more of them.
Kiosko y Más is an innovative, connected ecosystem that lets competing publishers cooperate in the spirit of consensus for the good of audiences and each other.  And in this digital era where getting in front of readers and capturing and their attention is more difficult than ever, that can be extremely rewarding.
So, lesson 4 then is about collaboration and coopetition – whether that means truly coming together in some kind of formal partnership, or just attending industry events and being part of a global community, where they can share knowledge and learn from each other.
Lesson 5: Treat it like the investment it is
It takes time and effort to make a quality digital edition, but it pays to do it right the first time.
When O Estado de S. Paulo (Estadão) first launched in Brazil, there were technical errors that made it difficult to count users – reflected below by drops in usage.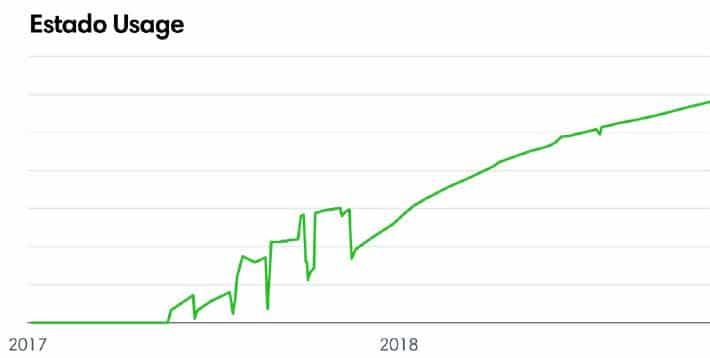 But, then the publisher took a step back, invested in a single sign-on system, and worked with PressReader's Branded Editions team to build print ads, email blasts, and other marketing materials to promote the new digital edition.
Estadão also dedicated resources to monitor and manage the product. The revenue achieved by these initiatives outweighed the investments made by the publisher and they also saved money by printing fewer papers and coordinating fewer delivery trucks, while reaching more readers.
Estadão took the time to get it right and it's paying off.
Lesson 6: Make it personal
If leading a tech company has taught me anything, it's that the real value of digital products comes from their ability to offer personalized experiences.  In terms of digital editions, this means offering features that allow readers to view the news in multiple ways (e.g. text view or replica page views) and interact with the content (e.g. social sharing, bookmarks, text-to-speech, search, instant translation, commenting, etc.).   But, these aren't nice-to-haves, they're just table stakes.
To attract and convert passive readers into active subscribers, publishers need to understand what a person (not a demographic) wants and what motivates them to pay for content.
The American Press Institute (API) published a report last year that might help.  It defined three types of readers and their willingness to pay.
The Civically Committed, who have a high willingness to pay because they believe in journalism as a cause.
The Thrifty Transactors, who want big value for low cost and look for bonus features, bonus content, discounts, and deals.
The Elusive Engagers, who are subscription-averse and have a low willingness to pay. For them, sponsored access models, pay-per-issue, and sometimes even pay-per-article make more sense.
API followed up by outlining nine paths to subscribing – the conditions and motives that cause certain types of people to subscribe.
It should be noted that these studies represent US audiences only, and will likely vary across different cultures and countries.  The key here is to know your audience types and then build products in a way that addresses the needs and preferences of different types of readers.  Because as we have all discovered, we now serve the "it's all about me" generations and they won't settle for anything not made just for them.
Lesson 7: Make it easy
If you're going to make it personal, you also have to make it easy for you and your readers.  You don't want to get stuck with some legacy technology that hinders innovation and access to insightful metrics.
Companies like Amazon and Uber taught us that everything could be had with the touch of a button. No wonder readers now expect magic for free. If it works that way for their favorite brands, why not with digital media?
So, the goal for your digital edition must be to provide a simple, quality, and intuitive experience that engages and retains the interest of readers.  It must give them the sense of accomplishment and value for the time they spend with it.
El Economista, in Mexico, built a webservice alongside their digital edition and allowed users to log in to each with the same username and password across all of their digital properties.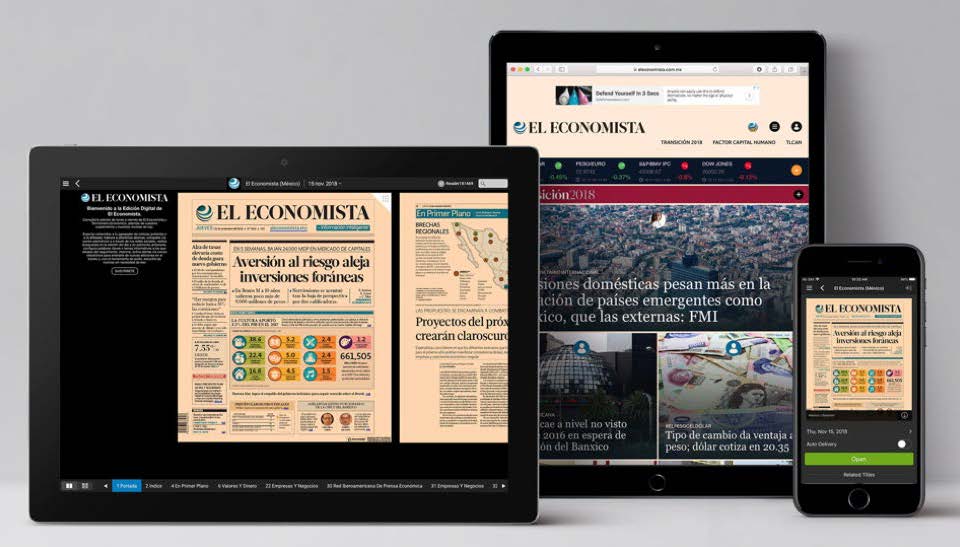 One-time account creation for every digital product, across the board – past, present, and future. It's simple and convenient. And that's key to success.
Lesson 8: Build it for a reason
And it better be a good one.
For Clarín in Argentina, it meant using their digital edition to transition readers from digital to print.  I know, it sounds counterintuitive in this digital age, but it actually works.
Published by Grupo Clarín, Clarín is currently the single largest newspaper in the country in terms of readership. Back in 2013, when everyone was clambering to get their digital editions up and running, Clarín already had one.  But its goals like so many other publishers was to just get one out there.  They didn't really have a good reason for building it.
So when the digital edition didn't live up to expectations, the publisher switched partners and put together a strategy for its next generation of digital edition which included migrating digital subscribers to the print product. And usage took off!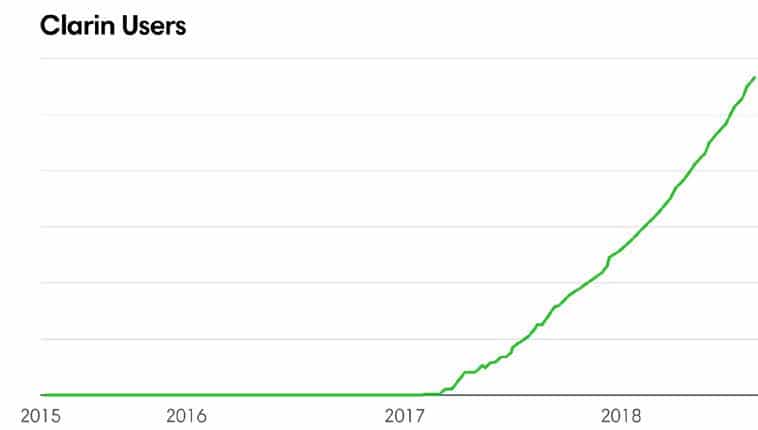 Offers like Full Digital + 365 and other bundles helped make their print subscription even more appetizing to digital readers. The digital edition, from their perspective, is now actively achieving its goal.
Lesson 9: Build it for real people
In all consumer-focused businesses, product developers must remember who they're working for and who they're building products for – it's not for themselves, their boards of directors, their advertisers, or investors.  If you're not putting your reader (consumer) first and building for them, the product is destined to fail.
In 2010, when the iPad hit the market, Canada's national newspaper, The Globe and Mail realized that there were all of these people, potential subscribers, who now had a new piece of technology.
The publisher made a strategic decision at that time to be multi-platform and first-to-market on mobile devices.   It exploited the opportunities provided by tablets and smartphones, to expand its offerings in digital, mobile, and online products to better serve its readers, and significantly grow its revenues.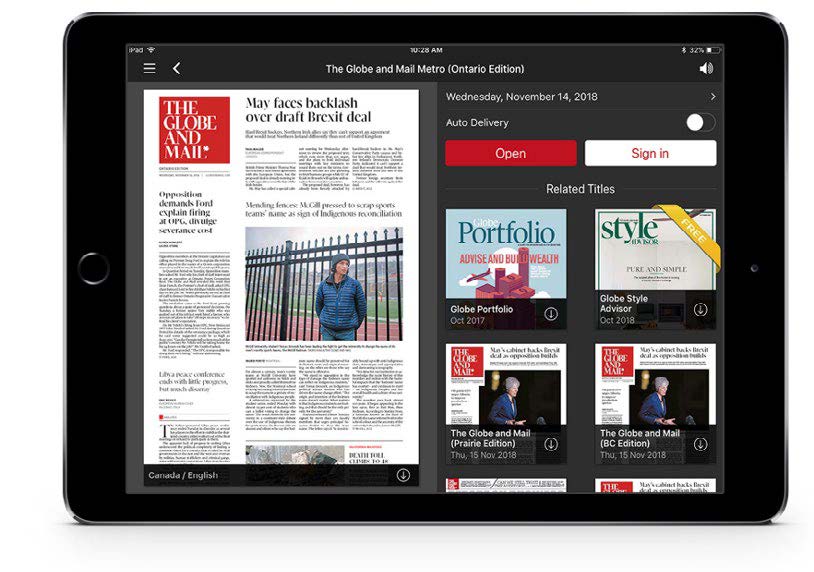 The Globe and Mail…
Focused on its core competencies (producing quality content) and partnered with PressReader to deliver a digital edition of content to audiences the way they wanted to read it
Proactively engaged with readers to ensure they were meeting their needs
Implemented effective packaging and pricing options including product bundles offering more choice to subscribers
Launched innovative marketing campaigns to be everywhere their readers were (e.g. imaginative ads in print, on its website, in emails, on billboards, and even TV).
The Globe and Mail was the first Canadian newspaper to publish an iPad app (Globe2Go) which won multiple awards and set the bar for competitors to aspire to.
In 2017, The Globe made a pragmatic decision to shut down production and delivery of all printed editions in the Maritime region.  Instead, it replaced those printed issues with its Globe2Go product.  The publisher was able to automatically authenticate every print subscriber within their apps to ensure no reader was left out in the cold.  There was a real audience with a real need for a digital edition. And The Globe capitalized on it with its Globe2Go digital edition.

Lesson 10: Take advantage of new technology.
Just as with the iPad, there will always be a shiny new piece of technology to run home and unwrap. And digital editions are poised to play a role there.  But they must adapt quickly to whatever new technology comes along that serves users' needs and desires.
Most of these technology changes won't change what people want, but they will transform the way they want it.  We've already seen this happen with the advent of mobile and its impact on content consumption.
For example, people still want to watch TV shows and movies, despite not being interested in cable. People still listen to music, despite not wanting to purchase physical CDs.  And people will always be interested in high-quality content that's presented in a way that doesn't just mimic a physical newspaper or magazine – but actually encourages reading and supports engagement.
Digital editions built on open standards (e.g. HTML5 + XML + SVG) can help publishers take advantage of changes in technologies quickly and effectively.
It's not enough to simply build a PDF replica or plug an image into a flipbook or eReader. Make sure you or the partners you work with are able and willing to take advantage of new technology to keep your digital editions in line with user needs.
Lesson 11: Your audience is good at recognizing problems, not so good at solving them
This is one I'm sure we all know pretty well. Whether you're a journalist getting article suggestions in your inbox, or an IT manager responsible for building and maintaining your website, or part of the marketing team that promotes subscriptions and all of your other products, I'm sure your audience as pointed out where things could improve.  Turns out, they're really great at that, right?  But their ideas about solutions are often off the mark.
Here's an example. In Australia, passengers on particular airlines and guests in particular hotels have access to PressReader.  Many want to read one of the metro Australian papers from Fairfax or News Corp, which aren't available through those channels.  Naturally readers complained saying, "We want to read This Title or That Title and it's not available on PressReader. You should add it."
They pointed out the problem. Very loudly, I might add.  However, the solution they offered was unhelpful. We'd love to have those publications available on our platform, but there are business realities currently preventing that.
But we did take their desire for quality daily Australian content to heart.  We worked with The Guardian Australia, a website-only news source, to create a brand new digital edition that looked and felt like a newspaper, but was filled with The Guardian's web content.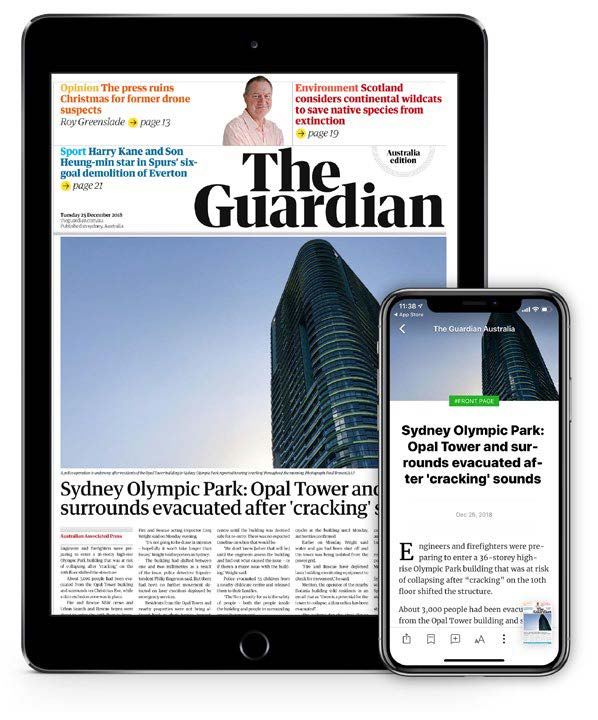 The stories were collected, every day, and automatically organized into a beautiful digital edition. Every issue included sophisticated advertisement placements and intelligent story layouts – all with minimal human guidance.
The readers' solution wasn't possible. But the problem they pointed out was legitimate (they wanted quality news stories from Australia on PressReader) and deserved a solution.  Today, those passengers and hotel guests are reading content on PressReader a lot more than they were before. And The Guardian is now available in new spaces with new readers, competing with Fairfax and News Corp for the top news spot in the country.
Lesson 12: Take advantage of every opportunity
It wasn't until 2012 that digital editions of newspapers finally achieved their rightful place in the audited circulation statistics in Malaysia. Once they did, however, The Star got to work quickly. They wanted to capitalize on the new auditing policy and increase their official circulation rates.
So, when The Star worked with PressReader's Branded Editions service to build a series of digital editions – one for each operating system – they quickly saw an increase in circulation rates of about 12% for both its daily and Sunday editions.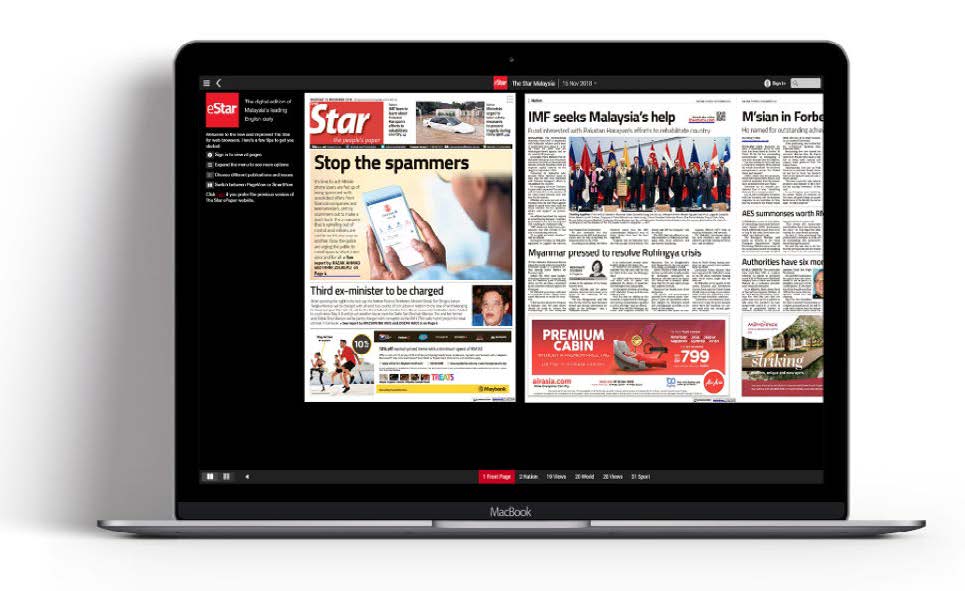 Digital editions have the power to do more than simply deliver content to readers.  They can help drive audited circulation and advertising rates.
Lesson 13: Don't confuse innovative with new
We toss the word innovative around a lot and I want to make something clear: innovative is not the same as new. There are plenty of new things, but not all of them are innovative.
Just because there's a new technology, a new feature, a new something that your competitors have, it doesn't mean that thing will bring value to your readers.
Take a look at The Toronto Star. It's a classic example of the digital edition saga. In 2015, the Star launched the Star Touch tablet app "specifically for mobile." It was a $20M investment that employed more than 30 people. The mobile app featured many of the same stories as The Toronto Star's website in a layout built specifically for mobile.
Two years later, it abandoned the project altogether. Shuttered the app.
In 2018, the Star finally unbundled its Branded Editions ePaper to offer it as a standalone product – a digital edition with the same layout as print, the same stories, and the same feeling.  The publisher also increased its promotion of it.
According to Nadine Chevolleau, Manager for Consumer Marketing at The Star, "When we added this subscription option on our website, my sales expectations were on the low end. I assumed if print subscription were challenged, the replica would be, too."
Chevolleau was delighted to be wrong, "In reality, though, despite very little marketing, we had a steady stream of consumers choosing to subscribe to the replica-only subscription offer. Why? It's simple: Subscribers wanted a credible source of news and information, and the replica provided a format that suited their lifestyle."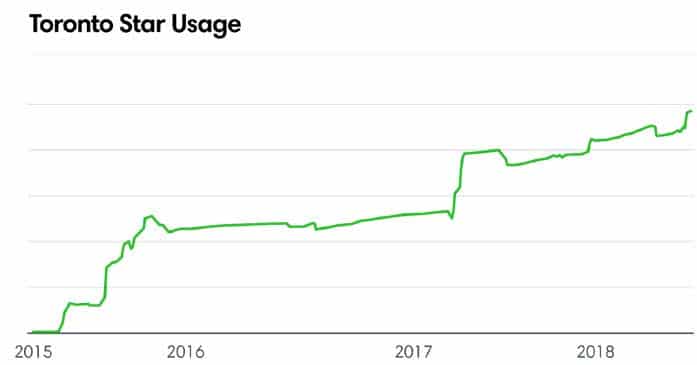 New doesn't always mean innovative and innovation doesn't always need to be brand spanking new.   The Star's digital edition, which had been around for a few years, but not marketed outside of a bundle, took off because it was innovative and provided a better experience than the new Star Touch app built specifically for mobile.
Lesson 14: Quality content is always king
At the end of the day, readers are only going to pay for things they see value in. They're only going to pay for quality content, regardless of format. Without engaging, trusted and relevant stories – the core competency of publishers – none of these other lessons matter.
Lesson 15: Find a strong technology partner
Finally, I'll leave you with this final lesson – one that hits close to home for me. We've just run through 15 years of lessons learned that barely even scratch the surface of all you can do with your digital edition.
Make sure your partner, whoever is responsible for building and maintaining and evolving your digital edition, has already learned these lessons. If not, send them to them. Please.
The strongest partner, is the one that's right for you. Consider Stuff and their digital edition for Dominion Post. It's delivered to readers not only as a standalone product, but also through PressReader.
By hosting Dominion Post on PressReader, Stuff is tapping into a massive audience they might otherwise not reach with a digital edition on its own.
Dominion Post's digital readership continues to trend upward because we're able to help market its digital edition through PressReader and take on ancillary activities that make their digital editions successful.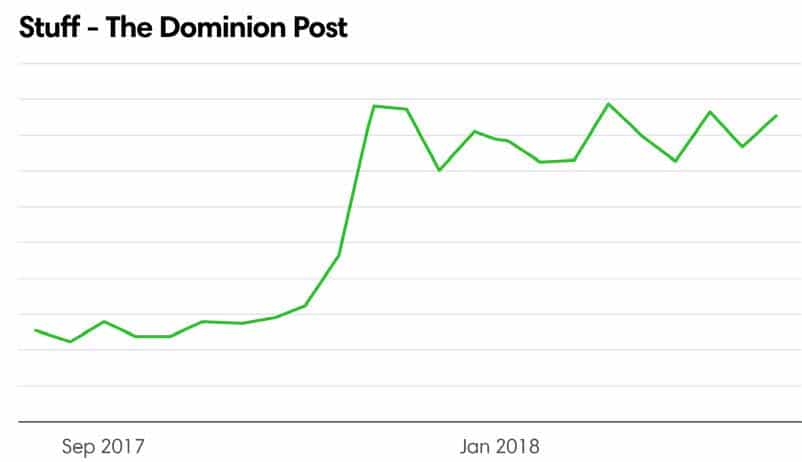 Earlier, I talked about how digital editions could be just another tool in your toolbox – one piece of your diversification strategy.  Well, like any tool, the power is in how you use and market it.  And, in the hands of a master craftsmen, it can create something truly beautiful.
If you have lessons you'd like to share or want to learn more about the value digital editions can bring to your content and bottom line, let's talk!