Digitally connects readers to the UK's commuter newspaper
The Evening Standard (owned by ESI Media) has partnered with PressReader, the world's largest premium newspaper and magazine platform, and architect of Branded Editions' award-winning technology. Through the partnership, Branded Editions has created a digital replica of the Evening Standard, the UK's well-known commuter newspaper. The digital replica will expand readership by offering audiences features such as article sharing, instant translation in up to 18 languages, and voice narration – all of which will help to bring the Evening Standard's content to life in new ways.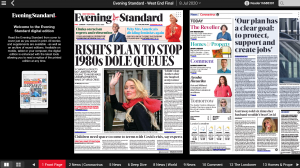 The Evening Standard has always been in tune with their audience, and have responded to changing times. Back in 2009, after a 180-year history of paid circulation, the Evening Standard moved to become a free newspaper, doubling its circulation. Now, addressing current global events, the publication has introduced a number of alternative distribution methods to provide readers with Evening Standard content throughout the lockdown period. One such alternative is to enjoy their staple newspaper on their newly created digital edition – available anywhere readers are now and in the future.
"Our technology provides high product reliability and functionality, while also allowing publishers to maintain ad revenue," notes Alex Kroogman, CEO of PressReader Group of Companies. "We connect publishers to their audiences, now when it matters more than ever. And, we're meeting this growing demand by assisting publishers with a swift user import process that provides digital replica access to subscribers who cannot access print editions."
Creating the digital edition, to give readers access to the newspaper is an essential motivator to the publisher, as the Evening Standard continue their commitment to reach audiences during these uncertain times. Whether for daily news updates, information to stay informed or entertained, reaching readers with fast moves to digital continues to be an essential evolution for publications' survival, especially now in times of isolation and physical distancing.