Creates digital replica kiosk to connect readers to Ecuador's top publications
Branded Editions, powered by PressReader, has partnered with Prensadigital to create a digital replica kiosk providing newspaper and magazine access to hundreds of thousands of readers across Ecuador and Spanish-speaking countries. The digital replica kiosk currently features 12 publications, including well-known titles such as El Universo, El Comercio, Super, Que!, El Mercurio, El Diario, and Centro – just to name a few. As one of the largest newly formed publisher collaborations in South America, Prensadigital's new digital replica kiosk is set to be a one-stop-shop for readers.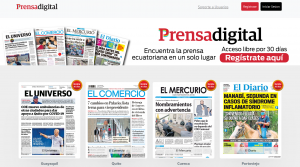 Formed in 2020, Prensadigital is a collaboration between the two largest publishers in Ecuador (El Universo and El Comercio) and two of the most popular regional publishers in the country (El Mercurio and El Diario) – which brings together a unique partnership between four well-established and independent publishers. And, this is a partnership where everyone wins. For audiences, the new Ecuadorian collaboration has created a national kiosk of all popular newspapers and magazines in one easily accessible place online. For publishers, having one digital replica kiosk will increase cross-selling amongst publications which will promote discoverability, lower inefficiencies and costs that publishers would otherwise incur with individual kiosks; not to mention increase the power of negotiations with third party providers and sponsors – there's power in numbers.
"As the world consumes more news and content as a result of COVID-19, we're working with hundreds of publishers to deliver more of their quality content to their readers than ever before" notes Steve Chapman, Vice President Content Partnerships at PressReader.  "One of these exciting new initiatives sees us collaborating with Prensadigital to create a single kiosk for Ecuadorian content, providing award winning technology in a reliable product for the reader, driving discoverability and cross-selling opportunities for publishers who participate. It's a one stop shop for both publishers and readers."
Branded Editions draws on PressReader's 20 years of experience in the digital publishing space, working to create bespoke solutions for newspapers and magazines, affording publishing partners quite a number of advantages. For Prensadigital, this means enhanced technology with user-centric features that maximize each publisher's ability to attract and retain the interest of readers, with interactive and immersive features such as translation in up to 18 languages and multi-device compatibility.
Additionally, each publisher will be able to import their print users in this critical period when paperless solutions and reader access are heightened. In addition, each reader will have the ability to purchase any of the publications of the platform using the same credentials and payment method as the Prensadigital kiosk shares a group database and SSO system.
Go ahead, have a read. As part of their launch, each publication on Prensadigital is available complimentary for 30-days.